* * All of our Video/Audio sets are in

DIGITAL FORM ONLY

and will be delivered instantly via email * *
Please make sure your email is correct at checkout
CA Training Mastery
Dr. Robson and Team Personally Teach CAs How to be the Most Powerful in the Profession!
The training set that can be used for all new CAs and seasoned CAs who want to get even better!
CAs Learn:
Chiropractic history, anatomy, terminology
Chiropractic awesomeness
Responsibilities and expectations
Why everyone should see a DC forever
How to get more people to come in for longer
How to show up and be great day after day
Of course all essential procedures are covered
And a TON more!
DCs Learn:
The hiring process detailed
The vision required for CA longevity
How to create a great team from scratch
How to inspire the best from your team
How to be the Boss that CAs will want to work for forever
And a TON more!
6 Audios and 4 Videos - Includes BONUS CA Affirmation Audio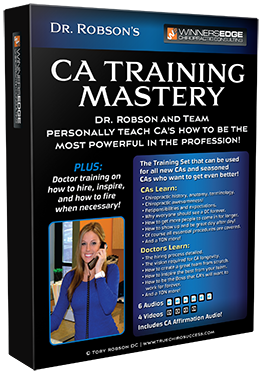 Audio Clip Find out if you have what it takes
to be a WInners
edge

Member!
Are you serious about hiring a practice success consultant?

Do you want to learn how to be a more successful chiropractor?

Are you willing to put in the hard work required?
The typical WINNERSEDGE DC grows 50 to 200 visits per week and
collects $50,000 to $250,000 more their first year!
Call or email us TODAY for more info!